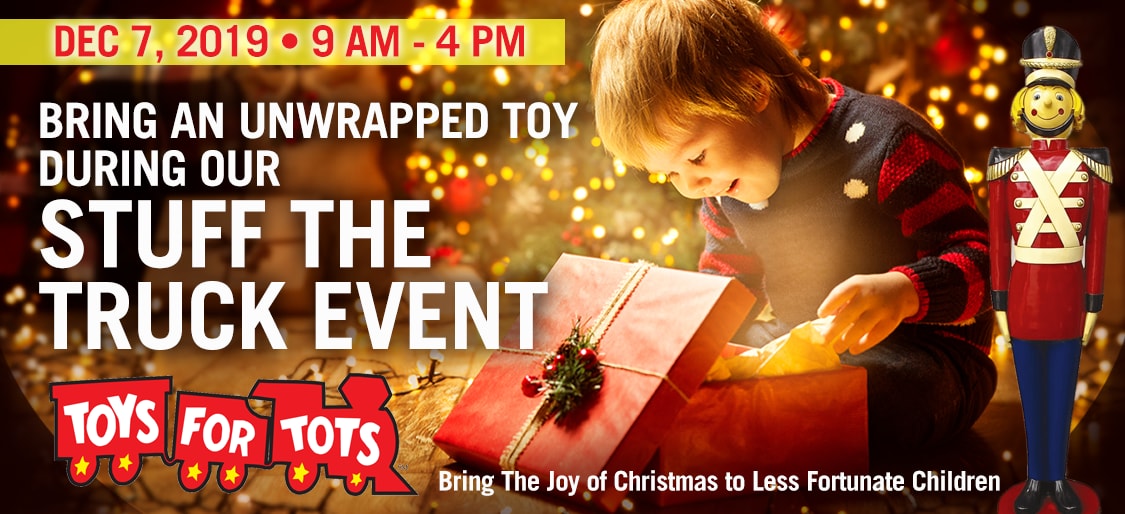 ?
The team at Dutchess Kia enjoys giving back to our community, especially during the holidays. We don't want any children to be without gifts this holiday season, which is why we'll be partnering with Toys for Tots for a huge donation event!
Our Toys For Tots Stuff the Truck Event will be taking place on Saturday December 7th from 9 am to 4 pm at our showroom, located at 2291 South Road (Route 9) in Poughkeepsie NY. We will be collecting unwrapped toys & putting them into one of our trucks to donate to this great organization run by the Marines Corp.
There will be a US Marine present at this event, along with Santa Claus, his elf and toy soldiers who are available for photo opportunities. Refreshments will be offered by the popular Pizza A Legna food truck.
Can't make this event and still want to give back? We will also be collecting unwrapped toys at our showroom to donate to the less fortunate anytime between 8 am and 5 pm starting on Friday November 1st up until Friday December 20th.
You can get further information about our Toys For Tots Stuff the Truck event by calling Sally at 845-462-7700 x27. And keep your ears open on your daily commute to hear more about our partnership with Toys For Tots on the following FM radio stations:
K104.7 (WSPK)
Q92 (92.1 WRNQ)
Country 107.3 WRWD
97.7 (WCZX)
Toys For Tots has been making a difference in the lives on American families since 1947. Marine Corps Reserve Major Bill Hendricks started the organization after his wife wanted to give a few handcrafted dolls to children in need and now, they currently distribute an average of 18 million toys to 7 million children each year.